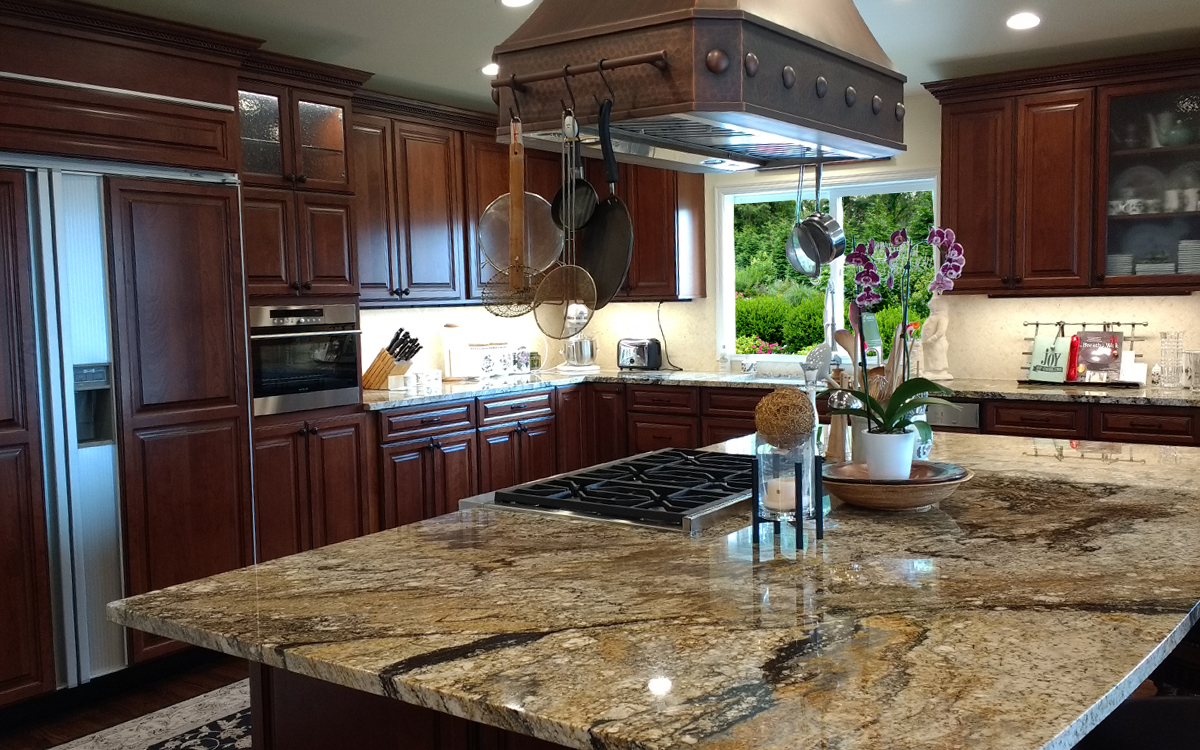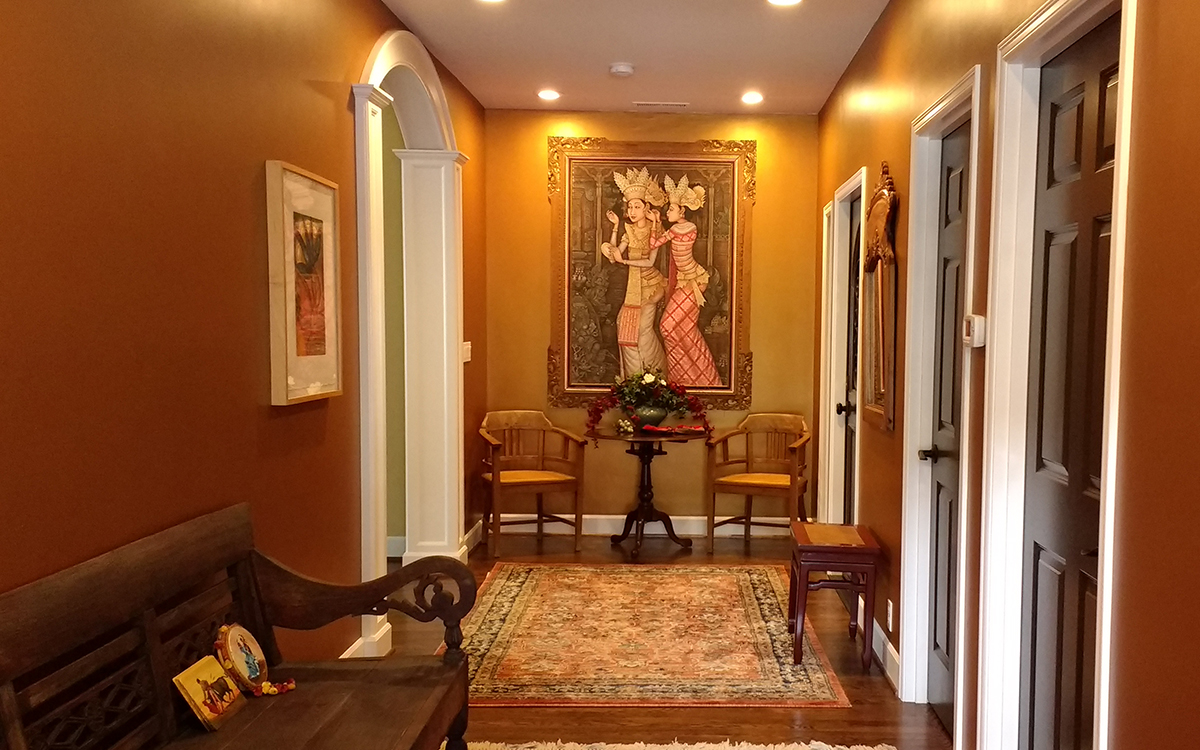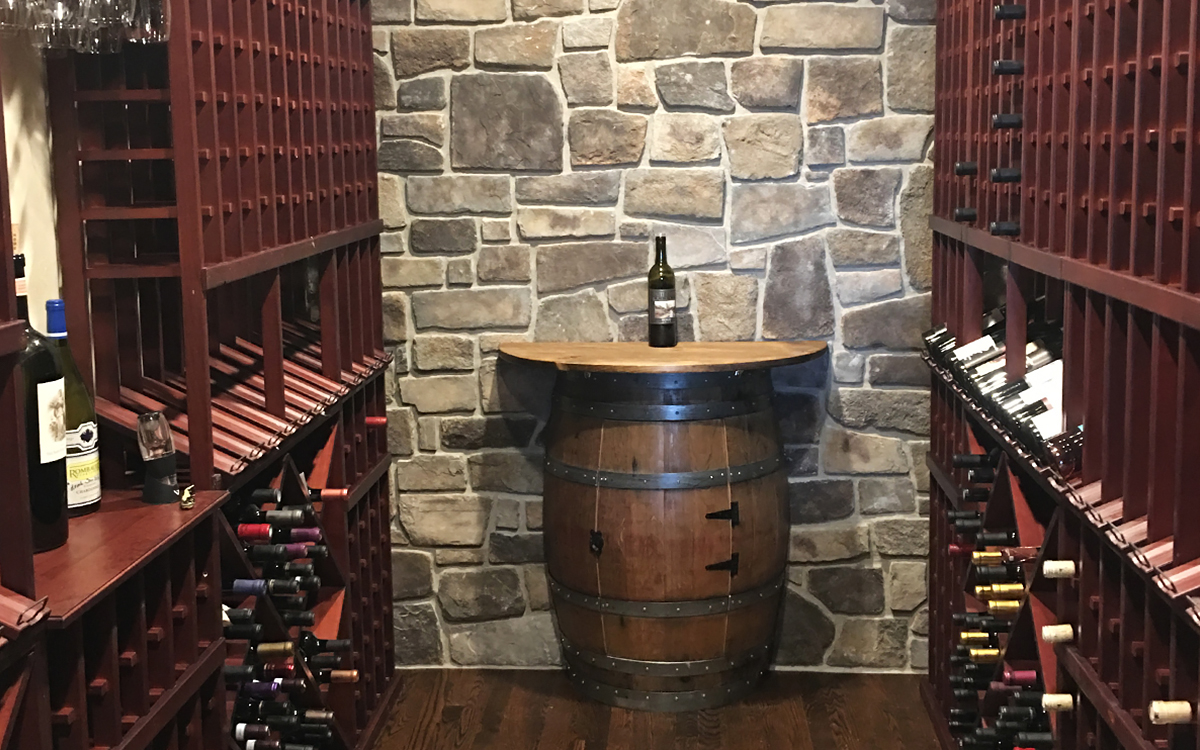 Practical elegance best describes the extensive remodel of this Edmonds home overlooking Puget Sound and the Olympic mountains. We originally remodeled this home in 1996 by renovating the kitchen and adding a second story.
This most recent remodel met several needs for the homeowner. First, we converted an existing courtyard between the house and the garage into more than 600 square feet of new living space, which included an elegant entryway, as well as a new bedroom, laundry room, and custom wine room.
A professional kitchen was important to our clients because they invite popular local chefs to conduct cooking classes in their home. To accommodate this, the kitchen area was expanded on two sides and engineered scissor trusses used to raise the ceiling by 15 inches. Finishes included the use of Supreme granite countertops, cherry cabinets, and custom-finished red oak hardwood floors. The addition of an informal seating area makes this a favorite gathering area.
Our clients love to take advantage of their view by entertaining friends and family in an expansive outdoor living area which includes an expanded deck area overlooking the swimming pool. The space has been enhanced by the addition of a custom pool house, which includes an outdoor kitchen, bath with shower, as well as the swimming pool mechanical equipment room.
Meet the Builder
NOAH FRANCE
Chermak Construction is a full-service residential remodeling company specializing in home remodeling projects of all sizes, with a focus on using the design-build approach. We are based in Edmonds, Washington and serve the greater Seattle area.
The company was founded by Howard Chermak in June of 1980. A commitment to quality and concern for the needs of customers have always been a characteristic of Chermak Construction. Our high standards and incentives help each employee to reach their personal best. This, in turn, benefits our customers.
After several months of discussion and planning with the Chermak family, Noah France of France Construction purchased Chermak Construction in August of 2017. Noah has been in the remodeling business for over 16 years and shares the same values of quality, integrity, and customer service. He says "I love helping home owners live in a beautiful home that stands up to the rigors of life. Enabling my clients to experience the joys of a transformation, not the frustration of a construction project gone awry. Honesty and integrity are paramount to our long-term relationships. I am excited about the future of Chermak Construction."